OzPlan – Shepparton (Laurie Pennell)
140 Nixon Street, SHEPPARTON VIC 3630
Ph : (03) 5821 6333
Fax: (03) 5821 6233
Email: lauriepennell@ozplan.com.au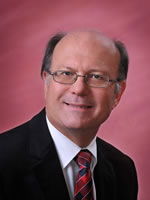 Laurie Pennell
Adviser #701 ASIC #224788
Director & Authorised Representative No. 224788
Certified Financial Planner™
Chartered Accountant
Certified Practising Accountant
Bachelor of Commerce (Melb)
Diploma of Financial Planning
Laurie is 57 years of age and has been a Financial Planner for over 23 years as well as an accountant for 13 years prior to that.
Laurie first established his Financial Planning Practice in Shepparton in May 1987 as an Authorised Representative of Bleakleys – The Financial Planners. After nine years he joined one of Shepparton's larger accounting practices as their Financial Planning Director.
In August 1999, Laurie along with seven other like-minded Financial Planners established OzPlan Financial Services. He is proud to be one of the founding directors of OzPlan.
In March 2003 with a desire to take control of his own destiny again he re-established his own practice to better service his clients.
The areas in which Laurie is qualified to give advice are:
Strategic Lifestyle Planning
Retirement & Redundancy Planning
Estate Planning
Superannuation (Incl SMSF)
Direct Share Advice
Life & Income Protection Insurance
Centrelink & Aged Care Advice
Salary Packaging Advice
This also encompasses advice on all types of financial products.
He is one of the most experienced Financial Planners in the Goulburn Valley region.