OzPlan – Benalla Office
107 Bridge Street, BENALLA VIC 3672
Ph : (03) 5762 1588
Fax: (03) 5762 1182
Email: brendansmith@ozplan.com.au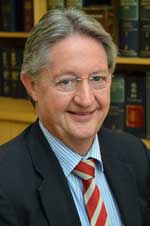 Brendan Smith B.Bus CFP® FPNA
Director & Authorised Representative (No. 224767)
Brendan Smith is a founding Director of OzPlan Financial Services and has been actively involved in providing quality financial planning advice for over 20 years. He has been a Certified Financial Planner since 1995 and as a qualified accountant, also holds a Bachelor of Business Degree (Accountancy).
In addition to his extensive financial planning skills and experience, Brendan has spent over 30 years working in public accounting. This has included roles as Tax Manager of a large accounting practice and as now Partner of an accounting practice which employs 19 people.
Brendan's major areas of focus in financial planning include retirement planning, superannuation advice, wealth accumulation and portfolio creation. He also oversees the work of the OzPlan staff at the Benalla office, including financial planners and administrative personnel.
His personal interests include local community organisations, sports and family pursuits.